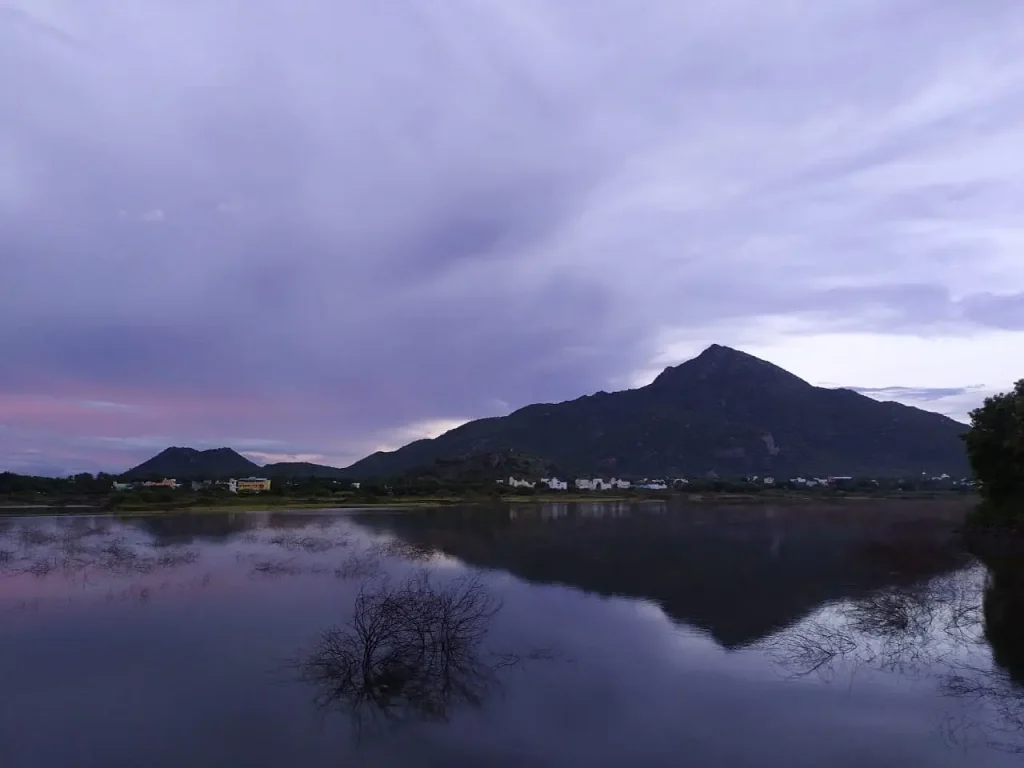 When Arunachala calls, you come. Every place has a certain field of energy and depending on a person's frequency at a point in time, the person reaches a place where the frequencies are in resonance. As Advaita (non duality) says, everything is playing out perfectly, everything is divine play orchestrated perfectly to the tiniest detail. The question of free will and such only occurs to the mind and as soon as the mind subsides, rests in the heart, there is only existence. Perfect existence remains. Sat Chit Ananda (Existence Consciousness Bliss).
Arunachala Hill is physically 2670 feet tall and more than 3 billion years old! Spiritually, it is considered to be Shiva himself. For centuries, saints and sages have performed intense sadhana on and around the hill and it is said that at any point in time, there are 60 to 70 realized beings living in the periphery of the mountain. These beings may take up any form- dog or a cat or a cow or maybe an apparently mad person or a beggar. They may also be present amidst us like a 'normal' human being living everyday life. Coming to understand 'realization'- it is never about the person. It is always about the state of the mind. As soon as the mind subsides, as soon as the mind rests in the heart, as soon as all the filters are dropped, realization arises.
I've been visiting Tiruvannamalai since 2015 and earlier in 2021, moved to the temple town. There are several travel guides and information on the internet already written by devotees from all over the world, here is one more such post which tries to aggregate information in one place for a person who's visiting for a couple of days. If you're visiting for a longer time, the place unfolds itself at its own time.
First things first, a big bow to Sri Ramana Maharshi, the divine light of Arunachala. The sage lived in the body from 1879-1950 of which 54 years were spent in Tiruvannamalai. At the age of 16, he had a divine death experience which gave him instant realization and having heard the name 'Arunachala' earlier, he at once decided to come here and merge with the mountain, Shiva (the entire story and a lot more on Sri Ramanasramam website). The Ashram is located 1.5km from the famous 16th century Shiva Temple- Arulmigu Arunachaleshwar temple, also called the 'main temple' by some, and 3.5km from the Tiruvannamalai bus stand.
So, if you're coming for say, a weekend, a typical itinerary would look like:

Visit Ramanashramam– The Ashram has several halls where one can meditate and connect with the inquiry of "Who Am I?" Right at the entrance, on the right, there is a bookshop which has numerous books on the life of Ramana Maharshi, his devotees and the teachings. There is chanting by the Ved Pathshala boys at 8am followed by an arti at around 9.15am. There is also prasad (food) served for everyone (free of cost) at about 10.15am. This usually has delicious curd rice and sambhar rice with pickle.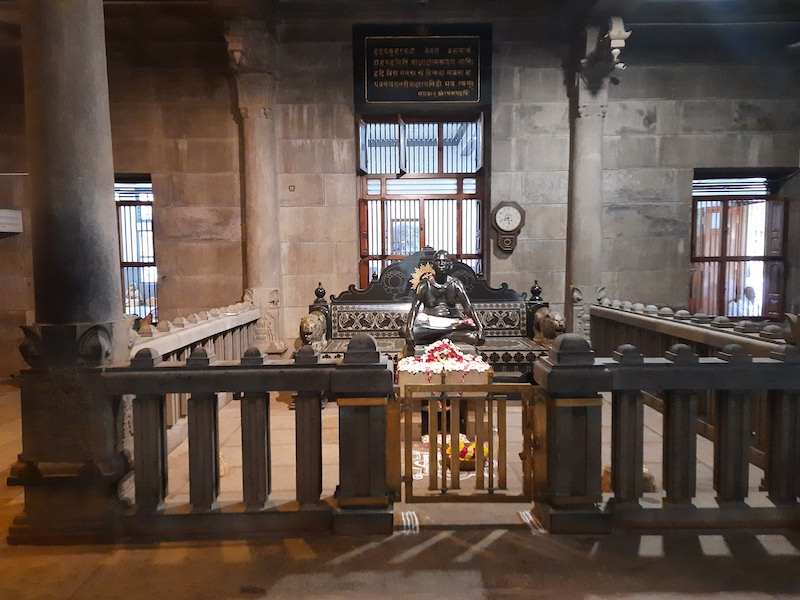 Swami Seshadri Swamigal's Ashram is right next to Ramana Ashram. When Ramana Maharshi came to Tiruvannamalai and was in the Patala Lingam (basement at Arunachaleshwar temple) in Samadhi, Seshadri Swami played a pivotal role in protecting Ramana Maharshi's body and bringing it to a safe place. There is a beautiful meditation hall in Seshadri Ashram as well and their canteen is well known for serving some amazing simple south Indian food throughout the day and evening at a nominal price. Do try out their afternoon meals.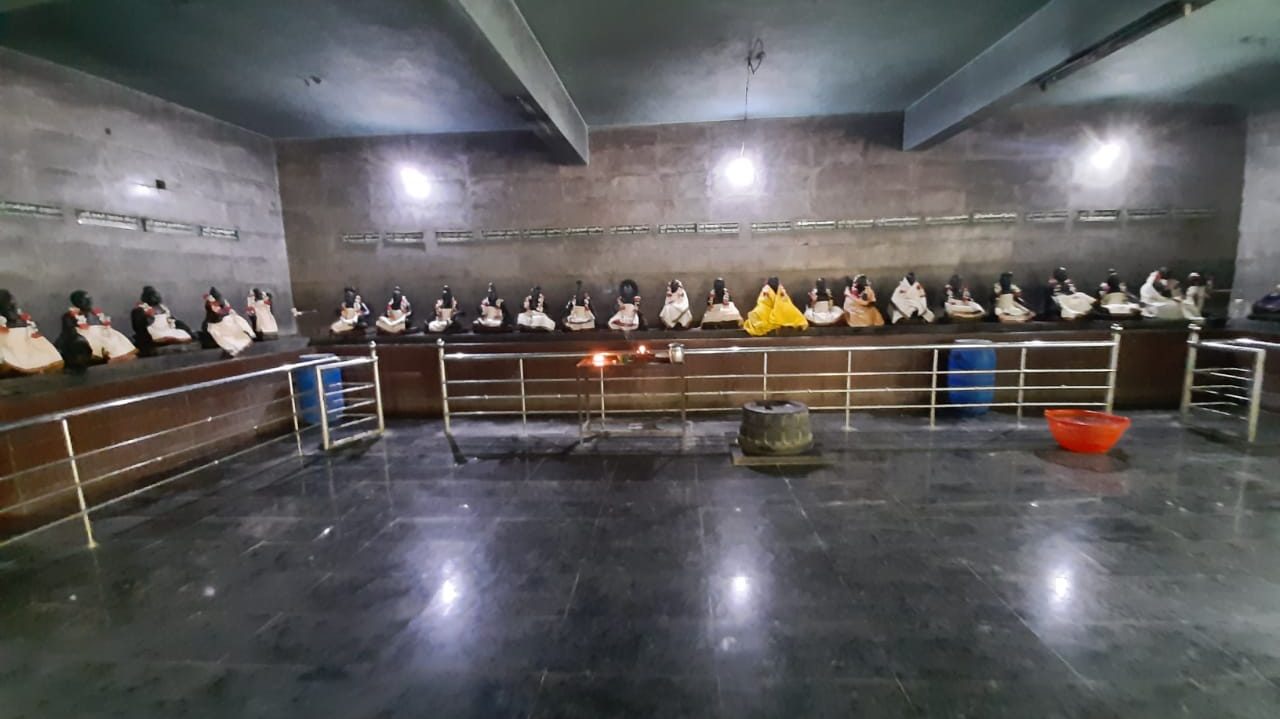 Skandashram and Virupaksha Caves: These are caves where Ramana Maharshi meditated after he moved up the mountain from the Aruanchaleshwar temple, Gurumurtham and a couple of other places where he stayed briefly. The great sage spent 16 years at Virupaksha Cave (1899-1915) and 6 years at Skandashram (1915-1921) before moving to where the current Ashram at the foot of the hill. These caves are about a 45 minute walk (1.5km from behind the ashram and can also be entered where the road ends from Agni Lingam). The caves (very small ashrams) haven't been opened post the pandemic but hopefully, devotees will soon be able to visit the caves soon again.

Visit the Main Arulmigu Arunachaleshwar Temple and the Adi Annamalai Temple: Both of these are ancient temples which are active and a modern mind would find them to be more ritualistic in nature. But both of them are incredibly powerful and also make them worth a visit for the architecture itself. It was the Arunachaleshwar Temple where Ramana Maharshi first came and went straight to sactum sanctorum which mysteriously happened to be unguarded on that particular day. There are pictures of Ramana Maharshi and a temple dedicated to him in the basement Patala Lingam where Bhagwan was in Samadhi.
Girivalam ('Giri' means a mountain and 'valam' is to go around): This is a very powerful spiritual practice highly recommended by Ramana Maharshi. Saints and sages and common people have been performing the circumambulation of the Arunachala Hill for centuries for several reasons- to purify the mind, fulfill wishes, as a physical exercise, and maybe just for the experience. The 14km walk (usually done barefoot) is done in silence or chanting God's name by keeping the mountain (Shiva) to one's right and taking its darshan as much as possible. One of the reasons for doing the parikrama barefoot is also so that the aspirant also remains in the present and now at every moment.

Now, now. What else is there to Tiruvannamalai? Let's talk about places to eat and stay?
We had written a post earlier about the best places to meditate in India which had Tiruvannamalai right up top with some information around this but let's delve a little deeper.
Food Offerings
Firstly, when in the land of sadhus, no one goes hungry. There are several food offerings happening throughout the day along the entire girivallam stretch. There is a food offering from Ramana Ashram which we already mentioned but there is the Vallalar Charitable Trust which serves healthy meals all three times. Then there is the Yogi Ramsuratkumar Ashram which serves a grand lunch to anyone who shows up between 11am and 1pm. Yogi Ramsuratkar also has a fascinating story and a great ashram to meditate and chant with Ram himself. There are several travelling vans and areas around the Mouni Baba's ashram who serve food at different times.
Cafes, Eateries, Pizzerias and Restaurants
Talking of cafes and eateries, Dreaming Tree run by Vijay is one of the famous cafes which has a great place to sit and talk and a nice menu including pizzas and cappuccinos. Inner Child which also has modern functional rooms is a good cafe run by Prem and his family. For the great south Indian Thali, Anand Ramana Hotel which has just come up besides the Ramana Superstore has got great reviews and then there is hotel Kanna in town. Auro Usha which is opposite Swami Seshadri Ashram is also a great place to have leisurely North Indian fare. For breakfast, Kavin's Cafe is a great place on Perumbakkam road and right opposite, there is the Satya's Cafe which is known for its pizza nights on Wednesdays and Saturdays. Margheritaly is a place for pizzaz and ice cream. Shanti Cafe is a hidden gem close to Agni Lingam for breakfast. There are home cooked meal options as well- Prasad Home Kitchen and Sapna's Kitchen which are both located near Sadhu Om Ashram. There is also Tasty Cafe which bakes excellent bread along with red rice thalis and other things. And then ofcourse there are tonnes of smaller joints selling steaming hot idlis, chai, and samosas everywhere! BTW, there is also Zaaroz and Swiggy/Zomato for online food delivery.
Places to stay
Now that our bellies are full, places to stay. We started our journey in Tiruvannamalai from Bose Compound, a decades-old compound setup by Aurobindo Bose (Bhagwan's devotee) for aspirants to meditate. Currently, it is run as an AirBnB which has all the modern amenities and it is a little forest hidden somehow right on the highway opposite the Ramana Ashram dispensary. Inner Child has very clean functional rooms with superb internet. For a budget option, Pink House has been an inn of choice for quite some time. Great location, clean (small) rooms, and mostly walk in booking. All the ashrams- Ramana Ashram (write a month in advance), Seshadri Ashram (94873 00491), Yogi Ramsuratkumar Ashram and more- also has accommodation options which can be accessed by writing to them or via walk-in (things are not as simple as they used to be prior to the pandemic). Mountain House and Green House by Bala, which are close to Inner Child are also good places for your stay. Then there is Ramana Towers and Aakaash Inn which is a typical hotel-like setup but very convenient for short stays. Apart from these, there are several other options you'd find on AirBnB or one can just book either of the above options for 2 nights and then take your pick.
Moving around
There are several autos you'd come across, you can just hail any and get to where you need to go. Prakash is a reliable chap who can be reached at 8110878538. For cabs/taxis, one can call Prabhu on 9442316252. I'll try and add more numbers as I come across them. For Tiruvannamalai Bus Stand, one can try the following numbers for inquiry: 9513508001, 04175–254355.
One can also scoot around town by hiring a two wheeler. Sampath is a trusted mechanic on Perumbakkam road (few houses before Satya's Cafe) who can be reached out on 9789672401. There are several other 'bike on rent' boards also you'd come across. Prices range from INR 80 a day to INR 250 a day depending on the kind of moped/scooter/bike and the duration for which you're hiring.
Events and Long Drives
If temples and ashrams and walking around the hill isn't your thing, there isn't much one can do in Tiru 🙂 There are ponds to swim in, hills to climb and long village walks to enjoy but these places reveal themselves once one stays for long enough. There are some social gatherings that happen in the form of kirtans and bhajans and satsangs (devotional songs, talks, etc.). There are also parties, dance workshops and other social gatherings that happen once you're familiar with the place and people who have been living here from a while. There are some Facebook groups that maybe a good place to begin- Tiruvannamalai Community, The Free Tiru Community and such.
Gingee Fort is some 40km from Tiruvannamalai and presents some spectacular views. Parvathamali is another sacred mountain around 16km from Tiruvannamalai also known for the arduous climb up the hill and a much longer 25km giri pradakshina. Another interesting place to visit can be Poondi Mahan's Samadhi in village Kalasapakkam which is about 30km from Tiruvannamalai.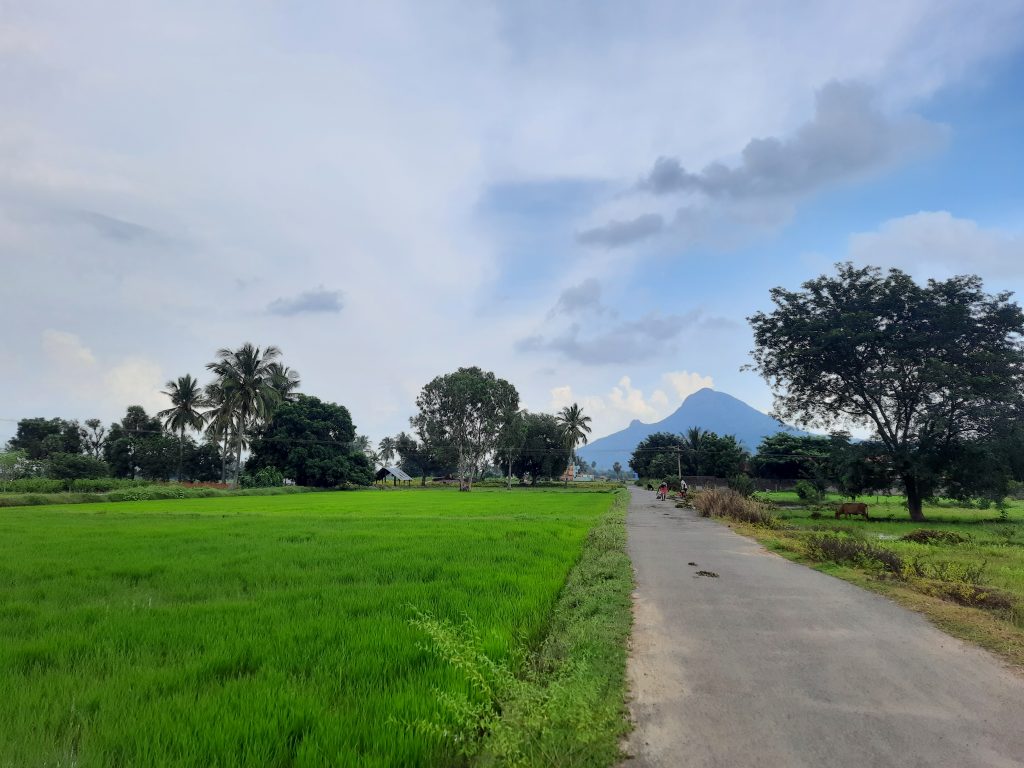 What is self-inquiry?
Now that the logistics are settled, what is the technique of "self-inquiry"? Before this writer says anything, he'd like you to point all the gurus who have already said all there is to be said:

Sri Nochur Venkatraman: Nochur Swami lives in Tiruvannamalai and is one of the most eloquent speakers who have made Bhagvan's teachings alive for devotees around the world. He mainly speaks in Tamil and Malayalam but has talks in English too (he shares a 10 day Satsang each winter at Ramana Ashram).

Voice of Rishis Website | English Satsangs on Ramana Maharshi | Bhagvad Gita in English (videos)

V. Ganesan: The grand nephew of Ramana Maharshi, V. Ganesan also lives in Tiruvannamalai and is responsible for recording a lot of stories of devotees and the Maharshi that we read today. Ramana Periya Puranam is a treasure trove of stories the he wrote.
YouTube talk on Ramana Maharshi | Download Ramana Periya Puranam PDF
David Godman: Born in England in 1953, David Godman is first visited the Tiruvannamalai and Ramana Ashram in 1976 and he was the librarian at the Ashram from 1978-1985. He has written and edited several books on Ramana Maharshi and has introduced the teachings to thousands of aspirants, especially in the western world.
YouTube Channel | Website and Books
More saints and sages who have lived Advaita: Nisargdatta Maharaj | Papaji (Call off the search, documentary)| Mooji | Ramesh Balsekar | Lakshmana Swami (David Godman's article)| Sri Ma Anandmayi | Swami Ramdas (Anandashram) | Swami Sarvapriyananda and the list will keep growing. Pranaam to the one.
Coming to the practice, self-inquiry is something Ramana Maharshi asked devotees to practice. What does this mean? According to Advaita, there are two "I's" we refer to- one is the limited body mind complex 'I' which we generally refer to.
I want to do this, I like that, I don't like this, the I which is a writer or a painter or an entrepreneur or any such limited identity. And then there is the greater 'I'- which we can call God or consciousness or any other word one wants to call it. This consciousness is all pervading- in advaitic terms it is called the 'Brahman'. And once a person starts relating with the greater 'I', the great calm- the problems of the smaller 'I' just become occurrences and don't cause any ripple in an individual.
So when one is inquiring- the idea is to ask this question perpetually, each living breath. For instance, if you're asking- "What is the purpose of life?" or "Should I renounce and become a monk?" or any such question; The answer the inquiry suggests is to ask the question- "Who is this 'I' that wants to know the purpose of life?" or "Who is the 'I' that wants to renounce?"
The idea is not to ignore any question but that once an individual finds the source of 'Who Am I?", all such questions dissolve and find their answer in the heart in the form of everlasting peace. The person will still continue to act in the world according to his or her 'prarabdhkarma' but there will be no suffering. The same pains and joys will continue in life but there will be no attachment and hence, no suffering. There will be constant union with peace; rather one is peace itself. Because all is peace. Peace alone exists.
Now, this is may seem like an intellectual inquiry to begin with but the entire process is only heart. Bhakti. Ramana Maharshi used to tell devotees who found self-inquiry too hard to just surrender. There is nothing to know, nothing to do, nowhere to go. Rest in the heart, surrender all your problems, your complete being to the divine. Everything is perfect in the now, as it is. Realization alone exists.
For the sake of this travelogue, if one still asks for a practice, something to do. Robert Adams, a devotee of Ramana Maharshi gives a nice practice in his book "Silence of the Heart" with the "I Am" meditation. Whenever you sit on the mat for meditation, try this: Sitting in a comfortable position, with each inhalation, say 'I' and with each exhalation, say 'Am'. We usually associate the "I Am" followed by a blank which is filled by an 'identity'. But the purpose of this meditation is to rest in the void, in that state of no identity. Resting in that space for long enough, one will be able to touch the source of the real "I Am" which is just existence.
Sat Chit Ananda. Existence Consciousness Bliss.