Arunachala has his ways of revealing.
Revealing what? Well, revealing can only be for a person, the 'I' thought. There is no revealing for the ever-present, the omnipresent SELF, Arunachala. But stories, we have to tell. Praises, we need to sing. Let's embark on one.
On a beautiful warm afternoon, random explorations via Google maps took us to this part of Tiruvannamalai which seemed to be from the 1980s (btw, here's a modern-day guide to Tiruvannamalai). We took a left just before Adi Annamalai and, a different material world presented itself. Non-descript, hot, powerful, intense, fiery; all aspects of Shiva one can think of.
Following the random location on maps, we parked our moped and I was just happy taking the darshan of Arunachala without heading into any of the only two temples around. But Saraswati had other plans, she opened the door of a temple/house and asked if we could come in.
And there, in the middle of almost nowhere, a powerful and jolly saint- Swamini Premanandeshwari (Prem: love, anand: bliss/joy, eshwari: goddess). She's from Malaysia, speaks fluent English, and has been living in Tiruvannamalai for 17 years. Hardly anyone would be knowing about her.
The Swamini, in all her glory, ushered us in and welcomed us with a puffed rice laddu and juice (yes, Pomegranate Tropicana :)). A beautifully flowered sage, she is an ardent devotee of Ramana Maharshi, Bhagwan came to her in a dream and initiated her. She told us, "He came to me in a dream and said- Come to Arunachala, merge into Shiva."
Amma has been on several pilgrimages from Chennai to Kashi to Char Dham (Amarnath, Kedarnath, etc.). Having been brought up in Malaysia, she has lived in the US for a few years, and has led the life of a householder. One of her daughters, Lakshmi – mentally unstable in the eyes of the material world but a silent guru/Siddha in every right – has been her teacher as well. Lakshmi's the one who put Amma on her spiritual journey and liberated her. While Amma was sharing this story, Lakshmi came, sat on a chair, and squeaked in bliss- completely oblivious to her surroundings. She herself sat there as a goddess. Amma had to go take care of Lakshmi but all these conversations were happening in front of a magnificent Shiva Linga which the Amma has consecrated.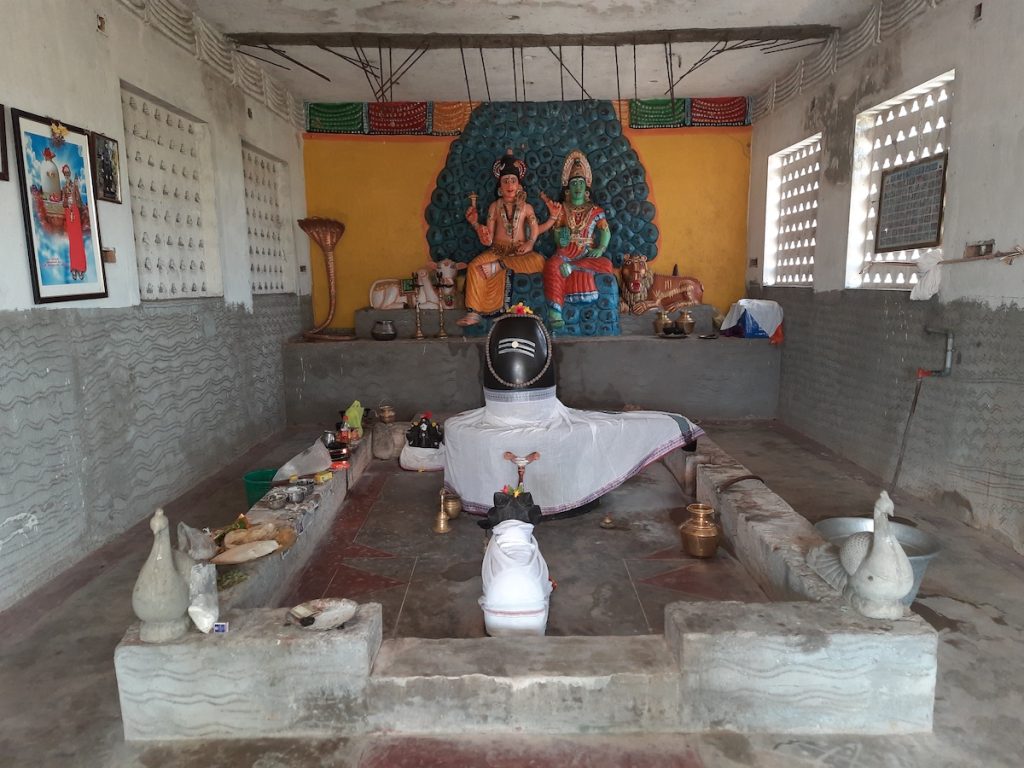 This Linga comes from the river Narmada (read about the Narmada Parikrama), has been to Kashmir, then to Vellore, and finally to Tiruvannamalai. Amma has been living for 17 years, almost hidden, completely unknown like so many powerful sages in the vicinity of the mountain.
It's just incredible how many saints, sages, yogis, and Siddhas of incredible caliber reside in the Arunachala Kshetra (30km around the mountain Arunachala). And yes, there is commercialization, many of us may feel that so much construction and development is happening around town but this ethereal vibe underlying Tiruvannamalai is infinitely more powerful than anything else. This is all Shiva's will, Arunachala has perfect plans for everything. And this is true for the whole world. Every moment is such a miracle, every instance is a marvelous lifetime!
We couldn't go into the details of Amma's stories because it was her time to take care of Laksmi's lunch but Amma is welcoming of people and anyone who feels called should definitely visit Swamini Premanandeshwari! The location is the house beside Arupadi Murugan Temple, email [email protected] for Amma's phone number.