I wonder what gives one inspiration to write? Today morning, after a bath and breakfast, a beautiful wave of serenity engulfed and when I sat in front of the computer screen, I thought of penning down a post listing down all the female gurus that have inspired my life. I made an initial list which had around eight people and doing some research, I came across Bhairavi Bhrahmani's story.
Before I get into that, I should probably share my mental state before the bath and breakfast. I had woken up at around 6.30 and started with my yoga asana practice but the mind was in a whirlwind. I lied down in Shavasana and tried to watch the feelings that arose. Gripping the body and releasing. There were thoughts around adequacy and inadequacy- I've always felt that a human being is complete in himself or herself. Each human being, each creature, each cell, is complete in itself. It has both the masculine and the feminine. We seek anything in the external to fulfil some sense of inadequacy. To fill up some void. But the realization that we are complete, full, in every moment is very liberating. This feeling of liberation does not stay always and we fall back into personhood and wantings but the glimpse is enough. It makes one get a sense of the ultimate potential. The potential of the now which is permanent. 
And during the research, something I read corroborated this feeling:
I remember the day when I was able by the grace of Mother to view with perfect equanimity, the supreme pleasure of a pair of lovers, seeing nothing in it but the blissful sport of the Divine; the mind instead of descending even to the neighbourhood of ordinary human feelings, soared higher and higher merging at last in deep Samadhi.
With this, I'll get into the stories:
Bhairavi Bhramani
I hadn't heard about her before today morning! As I read, she was Sri Ramakrishna Paramhans' teacher. She initiated him into tantric practice in 1861. I'm no authority to comment on Tantra but as a fellow sadhaka would like to say that it is best to not give undue importance to this word because it provides a lot of intellectual stimulation and is a very delicate area. So tread with care.
Bhairavi Bhramani was an ascetic who carried a trident in her hand. She had a vision of initiating three people on their spiritual journeys; two of were in East Bengal and the third one was Sri Ramakrishna Paramhans. She came on a boat and mystically found him. There are not a lot of facts about her independently but all documented incidents seem to be in co-relation with Ramakrishna. VedicGoddess blog has a beautifully narrated story.
Vimala Thakkar
I'm quoting names in no particular order but as the flow of this post takes me. For me, Vimala Thakkar's name comes up in conjunction with Jiddu Krishnamurthy. The two share a beautiful story and Vimala Thakkar narrates this beautifully in her book, 'On an Eternal Voyage'.
In terms of a bio, Vimala Thakkar lived in the body from 1921 to 2009 and was born in Maharashtra, India. In the first part of her life, she was involved in the Bhoodan (Land Gift) Program which was initiated by Vinoba Bhave. At the age of 37, she met J. Krishnamurthy and this led her to leave the Bhoodan Movement and dedicated her life to "the internal problem"- the spiritual liberation of the individual.
Her journey is very honest and very relatable in terms of time frame as well. This question would often pop up for a social activist and her life gives an interesting perspective on how one can tackle this. On one side, there is Mahatma Gandhi and his beautiful journey while being at the forefront of reform, then there is Krishnamurthi and so many others. At the core, they're all the same, all of it stops mattering when we truly poin our intention inwards and inquire- "Who am I?"
Sri Ma Anandmayi
One look at Anandmayi Ma's eyes and you know you're looking into divine. It's amazing how in a picture also one can gauge this. Again, not to get swerved by trances and gazes, at the end of the day, it's as they say "Beauty lies in the eyes of the beholder". It's true in this case as well, god lies in the eyes of the beholder. If one is to see god, he or she would see it in every one.
Born as Nirmala Sundari in Bengal, Anandmayi Ma (1896-1982) was married at the age of 12! She spent five years after her marriage at her brother-in-law's home, attending to housework in a withdrawn meditative state much of the time. It was at Ashtagram that a devout neighbor Harakumar, who was widely considered insane, recognised and announced her spiritual eminence, developed a habit of addressing her as "Ma", and prostrated before her morning and evening in reverence.
When Nirmala was about seventeen, she went to live with her husband who was working in the town of Ashtagram. In 1918, they moved to Bajitpur, where she stayed until 1924. It was a celibate marriage—whenever thoughts of lust occurred to Ramani, Nirmala's body would take on the qualities of death.
On the full moon night of August 1922, at midnight, twenty-six-year-old Nirmala enacted her own spiritual initiation. She explained that the ceremony and its rites were being revealed to her spontaneously as and when they were called for. Although uneducated on the matter, the complex rites corresponded to those of traditional, ancient Hinduism, including the offerings of flowers, the mystical diagrams (yantra) and the fire ceremony (yajna). She later stated, "As the master (guru) I revealed the mantra; as the disciple. I accepted it and started to recite it." (source: Wikipedia)
More on her website here.
Mirabai
Another name for devotion, Mirabai was a Krishna bhakt who lived in the 15th century. Growing up in Gujarat during my childhood, it was common to hear Mirabai's bhajans during Janmashtami (Krishna's birthday) and otherwise.
The mind is amazing, it loves to make compartments. For a long time, my mind would tag bhakti as blind faith and disregard it. But just a little shift in perception, a taste of that 'blind faith' and it all falls apart. Blind faith, superstitions, etc. all at one level are just notions. I'd even put scientifically proved facts in this category. Yes, to work out things in the material world, one would base action on that inquiry but all of these are just filters of the mind. And each one of us is a perfectly valid projection the same thing (call it the divine, the supreme, anything one likes).
For Mirabai, none of these mental constructs existed. At a very tender age, she asked her mother, "Who is my husband?". Her mother replied, "Krishna." And that was it. Now there is no physical husband, no marriage, no nothing, She is in that constant state of the divine, constant state of the nowness.
5. Alexandra David Neel
This changes the flavour a little now. The name evokes very strong visuals for me- extreme cold, snow, Tibetan Himalayan landscape, travel, monks and nuns in robes! Alexendra David Neal (1868-1969) was the first westerner who made her way in Tibet in guise of a monk. She was a French-Belgian and went on her Indo-Tibetan exploration from 1911-1925.
She had arrived in Sikkim in 1912 and met with the 13th Dalai Lama in Kalimpong. The Dalai Lama advised her to learn Tibetan which she did and after some years of practice and tenacious exploration, went to Tibetan in 1916 without telling any one. Wikipedia has a detailed account of her journey.
I came to know of her through her book- "Immortality and Reincarnation: Wisdom from the forbidden journey". She has written about 30 books on spirituality and her journey have a distinct flavour of genuineness and intrigue for me. For all the adventure enthusiasts, her story is truly inspirational.
6. Parvathy Baul
Wow, I can sense my mode changing when writing about someone alive! I've met Parvathy Baul once and spoken to her over the phone. She's a sadhaka from the Baul tradition and is the face of the tradition in the modern world. Full of divine life, she lights up any place she goes to. I somehow landed on a UNESCO page when looking for a description of the Baul tradition and here is how they put it:

Bauls belong to an unorthodox devotional tradition, influenced by Hinduism, Buddhism, Bengali, Vasinavism and Sufi Islam, yet distinctly different from them. Bauls neither identify with any organized religion nor with the caste system, special deities, temples or sacred places. Their emphasis lies on the importance of a person's physical body as the place where God resides. Bauls are admired for this freedom from convention as well as their music and poetry. Baul poetry, music, song and dance are devoted to finding humankind's relationship to God, and to achieving spiritual liberation. Their devotional songs can be traced back to the fifteenth century when they first appeared in Bengali literature.
And Parvathy Baul is like a representation of the Bauls in modern world of the internet. Here is her website and Ekatharaa Kalari is a school she runs with other Baul Sadhakas as a place for anyone to learn more about and practice in the Baul tradition.

I bow down to the god within her.
7. Hazrat Babajan
This story takes me to the lanes of Pune, India. I don't remember the area now but a very dear soul took me there and it was a summer day. The only thing I remember is a mosque in the middle of a busy road and inside it is a huge tree growing through the walls. And a priest enters and blesses us with the sacred prop.
Hazrat Babajan was a Pushtun muslim saint born in Balochistan, Afghanistan some time in the latter part of the 19th century. She's known to have made extensive travel pilgrimages across the middle-east and was also a guiding light for the famous Iranian Indian saint, Meher Baba. She spent last 25 years in Pune (mostly under the neem tree on the road in full view of passers by).
I don't really have a lot to say with respect to her life but just this flame within starts burning stronger when I read up about her and one can almost visualize this old lady, completely free internally, sitting there, under a tree, at one with everything.
8. The Mother
Born as Mirra Alfassa (1878-1973), the Mother as she is called by devotees, is the guiding light behind the international spiritual community, Auroville in south India. Along with Sri Aurobindo, they put forth a vision for humanity which attracted people from all over the globe to come together and live in peace and harmony.
I've stayed at Auroville as a visitor, this wondrous forest of a city! And it fills up my heart with a certain kind of beauty. The power of intention. How two people, filled with divine light, could put things in action in the material world and manifest something so amazing.
9. Jetsunma Tenzin Palmo
We swing back to Tibetan Buddhism with Jetsunma Tenzin Palmo (born as Diane Perry). It makes me happy to share that this amazing person lives just 20km from where I live in Himachal. Jetsunma (this is a title) was born in England and at the young age of 18, she was drawn to Buddhism through a book. The lure was so strong and instant that within two years, she came to India where she met her root Lama, Khamtrul Rinpoche. And there was no looking back after this. Intense practice!
She became known especially after the book- "Cave in the Snow" which was written by Vickie Mackenzie on Jetsunma's 12 years' cave retreat in the High Himalayas. Beautiful extreme tapasya. Here's one description of her time there:
In 1976 Tenzin Palmo commenced living in a cave in the Himalayas measuring 10 feet wide and six feet deep and remained there for 12 years, for three of which she was in full retreat. The cave was high in the remote Lahaul area of the Indian Himalayas, on the border of Himachal Pradesh and Tibet. In the course of the retreat she grew her own food and practised deep meditation based on ancient Buddhist beliefs. In accordance with protocol, she never lay down, sleeping in a traditional wooden meditation box in a meditative posture for just three hours a night. The last three years were spent in complete isolation. She survived temperatures of below −30° Fahrenheit (−35°C) and snow for six to eight months of the year. (source)
In 1999, the Dongyu Gatsal Ling trust was formed and the DGL nunnery in Kangra district of Himachal. This is where Tenzin Palmo has lived since then and has been involved in extensive travel to spread the dharma.
10. Sister Shivani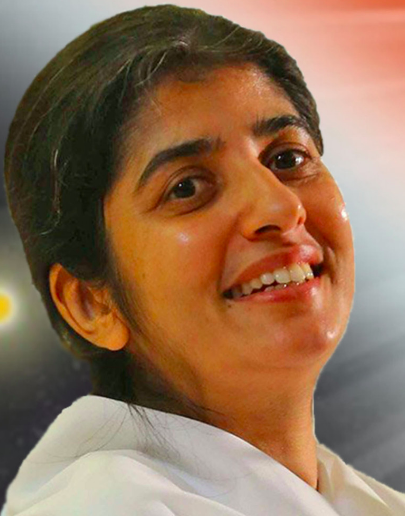 I was thinking of following the usual ploy and saying 10 as 'you', anyone who is reading this post since this is the intrinsic potential of every human being- being peace, love and harmony.
But then BK Shivani's name struck a chord and I'll end the post for now with her name. Born in 1972, she studied computer science, started a business, and got married. All those things that an average person reading this might have been through. She visited the Brahma Kumari's after looking at the changes in her mother's life and a certain realization set in for her.
I don't have much idea about the Brahma Kumari's but have heard Sister Shivani speak and she exudes wisdom. Get to know her for a regular dose of inspiration.
I'm sure there are hundreds and thousands of more such divine women who have inspiring spiritual stories. If there is someone very close to you, please share their story here in the comments or you can drop in an email to [email protected]