It's about 12pm on a Saturday in Bangalore when I get a phone call from a friend, Nikita. She tells me about another swami friend, "Ananda ji" (Anand Surya or Felix Anand Skaria) who passed away last evening. Ananda Ji was a gem of a soul, we must have exchanged a handful of sentences in our handful of meetings over a period of the last seven or eight years but there was a connection beyond words. The Arunachala connection; the connection of maunam (silence).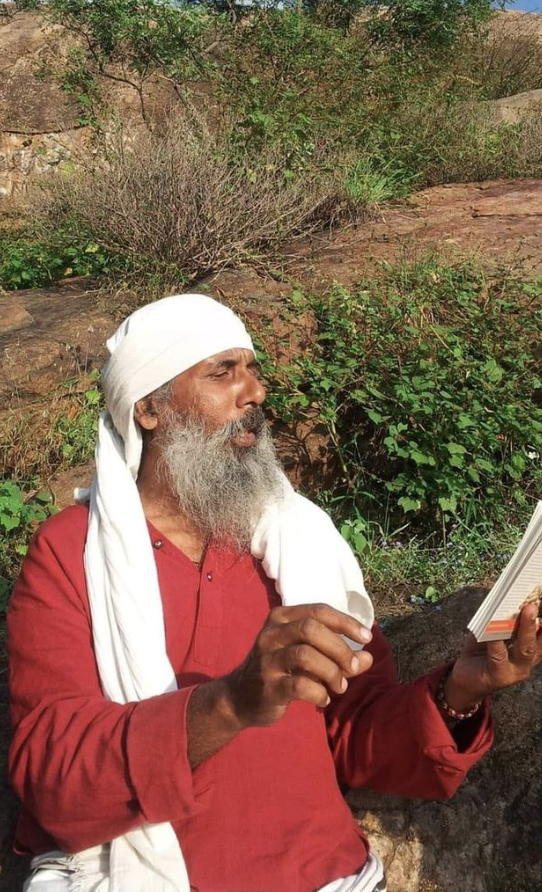 I had a busy week at work and I was winding down from all the corporate activity. The plan was to meet a few friends over the weekend but the news came and the spirit of Arunachala took over. Everything is Arunachala but this deep inquiry that 'death' brings up caught me in the grips. Om Namoh Bhagwate Shri Ramanayah.
I canceled all meetings and tried to get a few pictures of Anandaji, I got a post from M Saisankar on Facebook and got to know that the last rites would be at 3pm. The time was 2.50pm and since my body was still tired, I slept.

During the sleep, grace descended in the form of Darshan of Shiva- Ramana Maharshi, Balamurugan Swami. Call it a dream, call it an experience, devotees of Bhagwan would know how alive Bhagwan is. He's here, with all of us, at all times.
Now, who's Balamurugan Swami? He is realized master living in Arunachala Kshetra for more than 4 decades. He came to Tiruvannamalai when he was 46, realized the self, and has abided in that state ever since. His body is currently 87 years old.
A dear friend Shivananda introduced us to Balamurugan Swami a few months ago and ever since, we've been going to him every once in a while. Just sitting with him, being in silence; being silence.
Now, in this dream, I was sitting on a plastic chair, and in front of me, there was Ramana Maharshi, seated in all his glory! And this figure would transfigure and become Balamurugan Swami. I couldn't recognize the room we were in; maybe it is the same room where Balamurugan Swami resides, maybe some other room. But I had this feeling of Ananda passing away some time ago and I'm sitting in this room and there is a passage on death that is about to be read. There are some more people in the room as well.
As the reading goes on, we're about to arrive at the crux of the message around death and somehow I know that this experience was going to be given. We're talking of an experience within a dream. And right then, I lost body consciousness and slumped into the plastic chair. There is clarity that this is death. This is what happens when one passes away in awareness. There is a sense that the others in the room are a little concerned since this person sitting on a plastic chair has almost gone flat with feet pointing towards Balamurugan Swami/Ramana Maharshi. An old lady comes closer and tries to wake me up. Balamurugan Swami explains the situation and asks her not to worry.
A couple of minutes pass, I am dead in my dream. There is perfect peace. There is no fear, there is no movement. But there is the awareness that this experience is being given; it is grace. You'll be brought out of it in due time. There is an effort to wake up from death only because of the posture of the body (with the feet stretching towards the master) but there's no way of coming out of anything. All is fine, all is perfect. But even in that, the Maharshi's grace points towards the body being taken to another room.

When there is no mind, there is no time. There is nothing, there is everything. One can say all of this only on waking up, when the mind is active, when the 'I' is. So, when the 'I' woke up at 5pm, there was this recollection of death in dream. Who had the recollection of this thing called 'death'? The jiva; the individual ego 'I'. The one that writes this. The absolute is our true nature; the only reality. All is death, all is Arunachala, all is Balamurugan Swami, all is Ramana Maharshi; all just is.

After waking up, I share this with my wife Saraswati who had a similar darshan of Swami a couple of weeks ago. I make myself coffee since it has just rained in Bangalore (I get to know that it rained in Tiruvannamalai as well). And sit down to pen down this experience, remembering our dear friend, our dear Ananda. Dear Arunachala.

Sadgati, Om Shanti.